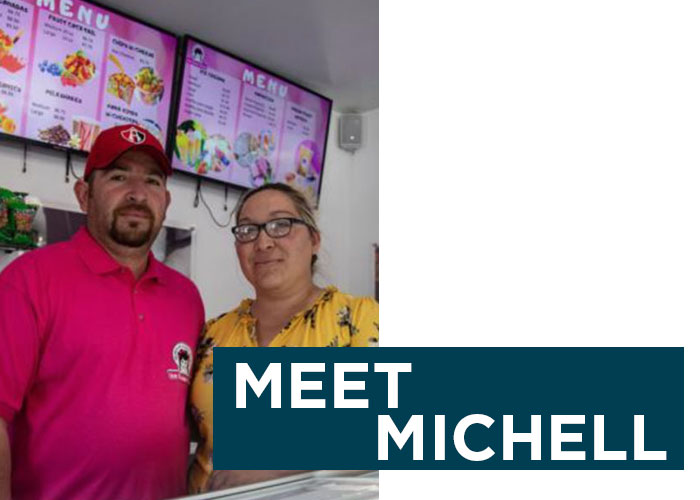 customer and ENTREPRENEUR
At HRDC, we know home can mean many things to people. In the case of Michell Baca Ball, making her home in Bozeman first started with help from HRDC and our Warming Center when she arrived here from El Paso, Texas about five and a half years ago.
Since settling here, Michell found the strength to end her toxic marriage, including securing a bus ticket back to Texas for her now ex-husband with HRDC's help. She also found the inspiration and fortitude to open an ice cream shop, Michoacán a Pedir de Boca, with Jesus, someone she was introduced to by a mutual friend. Soon enough, they fell in love and were married. Of Jesus, Michell says ''he's the most compatible person she has ever known."
What comes around, goes around. Michell is a woman whose gratitude and loyalty appear to be boundless. Those who are lucky enough to get to know her become friends for life and she naturally looks out for others while going above and beyond to support anyone in need. Michoacán a Pedir de Boca, where delicious handmade ice creams and other tasty treats are served, has quickly become a local Bozeman favorite and can be found on North 7th Avenue across the street from our Fork & Spoon restaurant, as well as in the Gallatin Valley Mall.
"HRDC has always had my back, and was there for me, not just when I needed help with paperwork or programs, but whenever I needed guidance or emotional support, too. I love the lady at the main office who always made time for me. I went there so much the first couple of years I was here because I didn't have anyone else to talk to. She has always been a sweetheart to me and my three boys."
Crystal is an HRDC team member at our Warming Center serving in the role of Outreach Coordinator. She is also a single mom, a college student pursuing a bachelor's degree in Human Services, someone who formerly experienced homelessness with her two daughters, and someone who has worked very hard to improve her mental well-being and the overall well-being of her family.
Fast forward to today and Crystal is not only thriving personally, she has become an integral part of our team. Crystal brings her unique lived experience to her outreach work which allows her to readily connect with the people in our community who are enduring daily challenges in the face of southwest Montana's housing crisis. She spends a majority of her time reaching out to our neighbors who are living in camper trailers, cars, and tents because they cannot afford to rent or buy a home in our area. Crystal understands their desperate circumstances and works to ensure they are accessing HRDC's essential services as they strive to get by in their challenging situations.
"I made a commitment to myself that I would pay forward the goodness that was extended to me and my family when we were really struggling. I'm grateful to HRDC for the chance to do this work and for also helping me establish a safe home for my family. This is the first time in my life that I actually feel stable and genuinely happy. The same goes for my kids. If I had a magic wand, I would make sure everyone who is experiencing homelessness is seen, heard, helped, and most of all, is never given up on. I'm living proof that positive things can happen when people don't give up on you."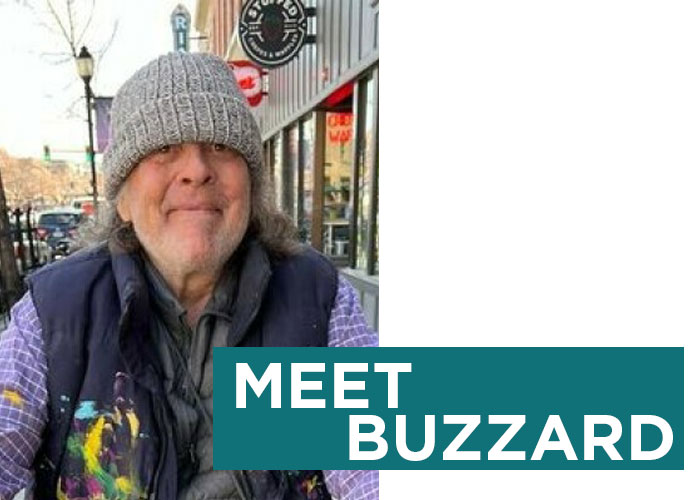 IN MEMORY OF BUZZARD,
CHERISHED customer
Every once in a while the universe conspires to create an extraordinary human being. Someone whose very existence is geared towards spreading love, kindness, grace, and humility. Such is the story of Buzzard. Unique in name and even more unique in character.
Although Buzzard's lived experience included several bouts of homelessness, and numerous debilitating physical and mental health issues, his love of others, and for life, propelled him forward. With a guitar by his side and art supplies in his backpack, Buzzard found a way through the toughest of times.
The last time Buzzard experienced homelessness he was in his sixties. To get by, he secured shelter tucked in behind some old tarps underneath a truck. There he stayed for 5 years. Eventually Buzzard reached out to HRDC. At first he was wary of the support we could provide. As his health continued to worsen, those who knew him began to conceive of a plan.
An anonymous donor offered to put Buzzard up in a hotel room for one month to allow him time to recuperate and to work more closely with HRDC to achieve some stability.
Those 31 days ended up saving his life. Buzzard visited a doctor and a dentist for the first time in years and his confidence began to grow through simple tasks like getting a haircut and some new clothes. Showing up for regular appointments at HRDC became easier to accomplish. Soon enough, we were able to help Buzzard apply for and receive SNAP benefits to help improve his access to more nutritious foods. Best of all, he was able to rent a subsidized apartment. His health drastically improved and he began using a cane in lieu of a walker. Not too long after that, he could be seen whizzing around town on a three-wheeled bicycle — his primary mode of transportation!
Once he felt better, his creative spirit shone through. From playing guitar for the many new friends he made at HRDC and while painting storefront windows, to entering a very productive artistic phase, Buzzard spread joy wherever he went.
Over the years, Buzzard became a Bozeman icon. He had so many guardian angels looking out for him around town. It took a community to keep him safe and to help him maintain his physical and mental health, but, more than anything else, Buzzard knew he had a family he could count on.
''All Buzzard has ever wanted in life is to love and to be loved. Those who had the chance to cross paths with this unique, selfless, loving man would all agree that their lives were forever enriched.''
Kristin Hamburg
Development Director, HRDC
customer and KIND-HEARTED employee
What do you do when you have nowhere left to turn? When all of your avenues for help have evaporated? When your ability to work for a living is significantly diminished due to medical reasons?
Do you live in your car? In a tent? On the street? Merlin's circumstances forced him to do all these things and more. This period in his life was frightening, fraught with despair, and a jumbled up mess of dead ends with a steady stream of tears. Merlin had endured a number of losses that could cause anyone's life to turn upside down. Shortly after his father had suffered a debilitating stroke, Merlin lost his housing when his landlord sold his leased condo, and not too long after that, he lost his job, too.
Following a trying period of unfathomable lows and loneliness sleeping overnight in well-lit parking lots, Merlin learned he could get a hot meal at HRDC's Fork & Spoon restaurant in the evenings, even when he had nothing at all in his pockets to pay for his food. The community-style seating at our restaurant offered a reprieve from his days spent with little to no human interaction. Not only did other patrons engage in conversation with him, he soon learned about our transitional housing program from one of our restaurant's staff members.
It wasn't too long before Merlin transitioned from living in his car into living in temporary housing with roommates. From there he was able to secure a permanent home in an affordable apartment complex that is owned and managed by HRDC. Merlin moved into his apartment in 2016 and is pleased to still be living there today. Along the way, he's made some good friends in his building, his apartment was recently fully remodeled, and he works seasonally in HRDC's emergency shelter in Livingston.
Beyond the significance of Merlin's shift from being unsheltered to living in a warm, safe place, he gained back something that had been lost for a long period of time. With tears in his eyes, Merlin conveys how he once again feels a level of respect from others. Merlin's dignity has been restored.
"HRDC is such a valuable organization in our community. It keeps people from being homeless and that's really important. My life feels different now. It just feels… nice."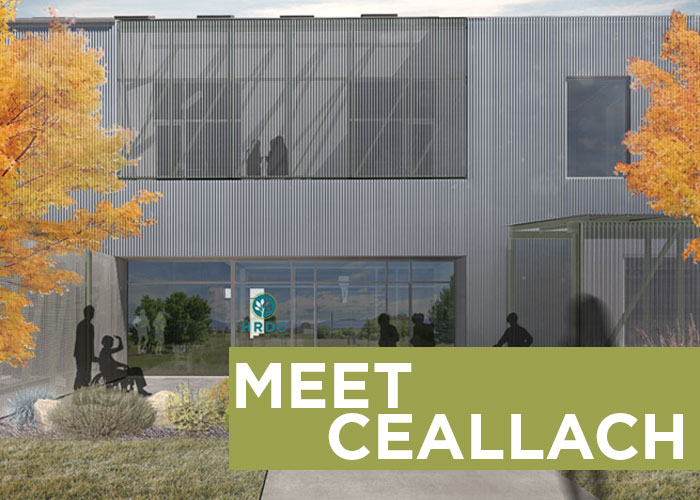 Ceallach is an incredibly strong woman. Her will to overcome intolerable situations became apparent when she stood up for herself and her family in the face of significant mistreatment, in her personal life as well as at her place of employment.
When life became untenable, Ceallach and her husband set off into the unknown to pursue a healthier environment for themselves and their two children. This unplanned journey led them from a small town in Idaho to Montana, the California coast, Utah, where they were stranded for a lengthy period of time, and eventually back to Bozeman, all while living out of their vehicle wherever they could find a safe place to stop. At first, they enjoyed their time on the road seeing new sights with their children. They treated this unplanned journey as a camping adventure ensuring their children were never scared or worried.
As time went by, the money they had saved and counted on to get by until they could land on their feet all but disappeared in a misguided investment. Suddenly their adventure turned into a dire situation leaving them no choice but to rely on the goodness of others for one of their most basic needs: feeding their children and themselves. Ceallach and her husband were initially hesitant to ask for help, but soon found they had little choice in the matter if they wanted to continue to nourish their family. With a leap of faith they began visiting HRDC's food bank on a regular basis.
Their initial food bank visits opened the door to obtaining additional support services and allowedthem to take steps toward rebuilding their lives. With emergency rental assistance, they were able to secure safe and affordable housing for their family, obtain medical and mental health support — in particular, for one of their children who has special needs — find employment, enroll their children in school, and immerse themselves in our community.
Ceallach expresses deep gratitude when she reflects on the community partner connections and wraparound services HRDC provided during her family's time of greatest need. As she looks to the future, she is hopeful she might further her education at Montana State University. The trauma of the past remains raw in many ways for Ceallach, yet through it all, her strength and determination continue to shine through.
"My hope is that by sharing my story, including details about the support that my family and I have received from HRDC, others will know it's ok to reach out for support. It's very likely my family would still be homeless if it weren't for HRDC."